Building a Template with GitHub
To start building a template, you will first need a GitHub Account, click here to create one. Now that you have an account (or if you already have an account), open up the default Zesty.io template example. Once you are signed in to github and on the 'plate-starting-foundation' template, fork it.
Required Files
Plate.xml
Plate-Variables.xml
shield.png
.tpl files for every view in the Plate.xml
Now go to the Zesty.io Account Manager. After clicking the new web property button, in the top right area of the 'Select a Design Framework' screen you will be given the option to upload your custom template.

From the 'My Account' page, click on 'Add New Framework'. Fill out the manager page to finalize your templates creation.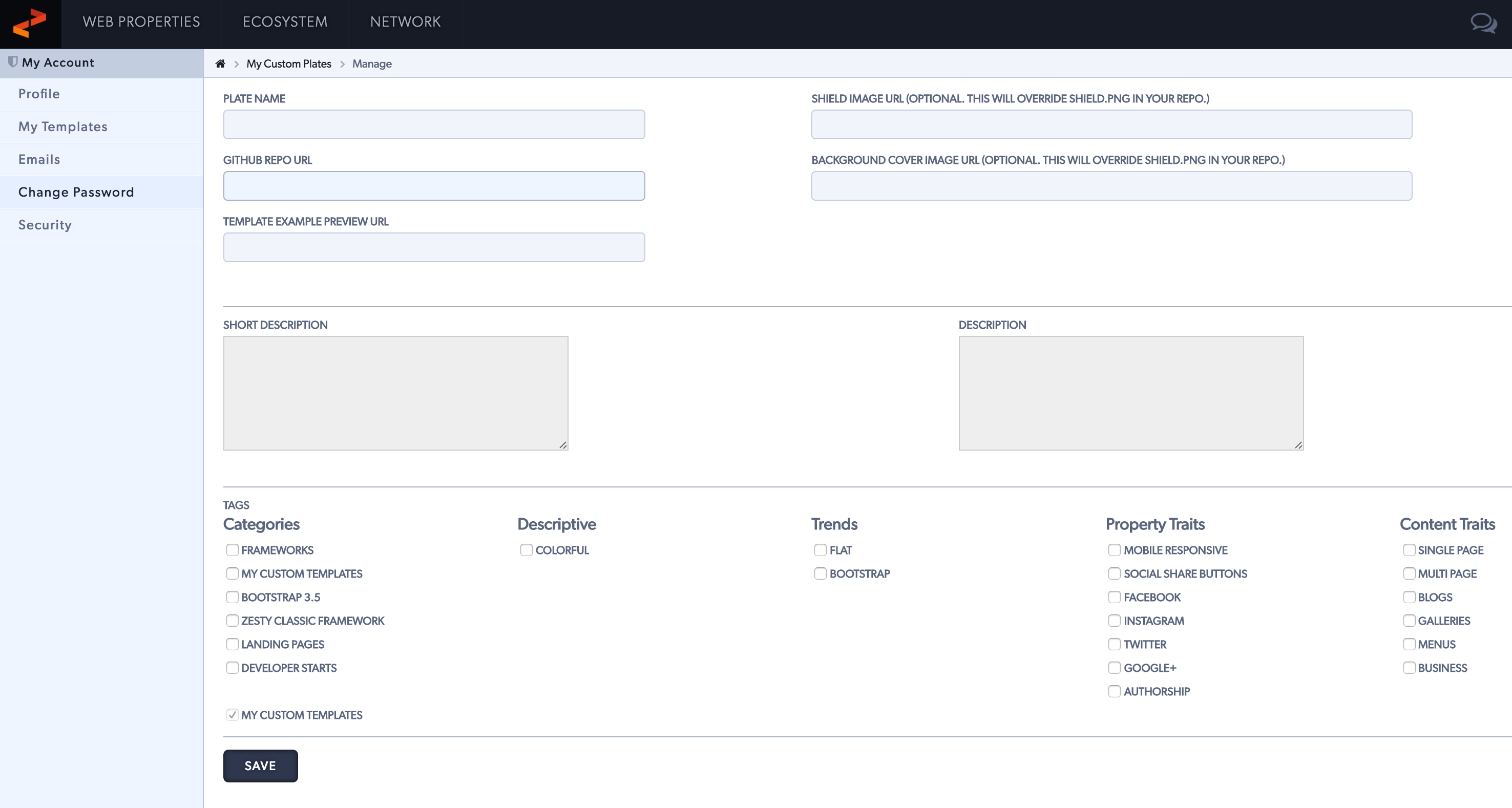 Plate Name:
The custom name of your template
Github Repo URL:
This will be the url of your github repository. In this default example, the url will be 'https://github.com/zesty-io/plate-starting-foundation'.
Template Example Preview URL:
This is the URL to the website the template starts with, such as 'http://c429f79152da850d8a2844cce33ff2ab.sites.gozesty.com/'
Shield Image URL:
A custom image url would go here if you wanted to override the default shield image.
Background Cover Image URL:
A custom image url would go here if you wanted to override the default cover image.
Tags:
Tags are a taxonomy system. Tags are helpful way to organize a large amounts of templates.
Finishing Up:
Your template will now be visible in 'My Custom Templates' from the create a new web property framework selection.

Lastly, you have the option of resetting your account and selecting a new framework if you choose.