SEO Tools
Zesty.io has an SEO toolset to help you optimize your sites across all search engines which includes the following: SEO tab tools
Google Webmaster Tools
Redirects
Robot.txt
Spice Crawler™
Content SEO sidebar tools
Meta Page Title
Meta Page Description
Meta Keywords
Sitemap Priority
Canonical Tags
SEO tab tools
Google Webmaster Tools
The home screen of the SEO tab shows Google Webmaster Tools. Users will only see Google Webmaster Tools if their site is registered with Google Webmaster Tools. If the site is not registered with Google Webmaster Tools, users have the option to submit their site for registration from this screen.

Redirects tool
The Redirects tool has several sections: creating redirects, creating mass redirects, and viewing all created redirects. If the 301 redirect is not checked, a 302 redirect will be created.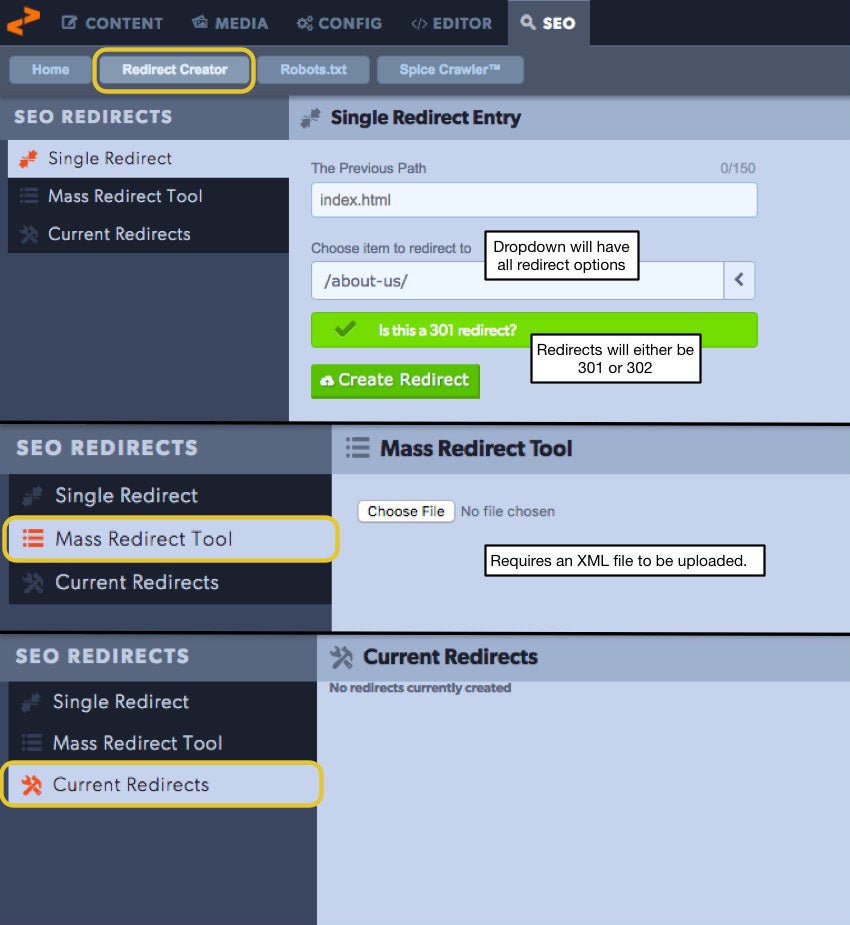 Robot.txt creator
A Robot.txt file is used to tell user agents, typically search engines, which parts of a site they can crawl. For example, you can instruct specific search engines to not crawl your site.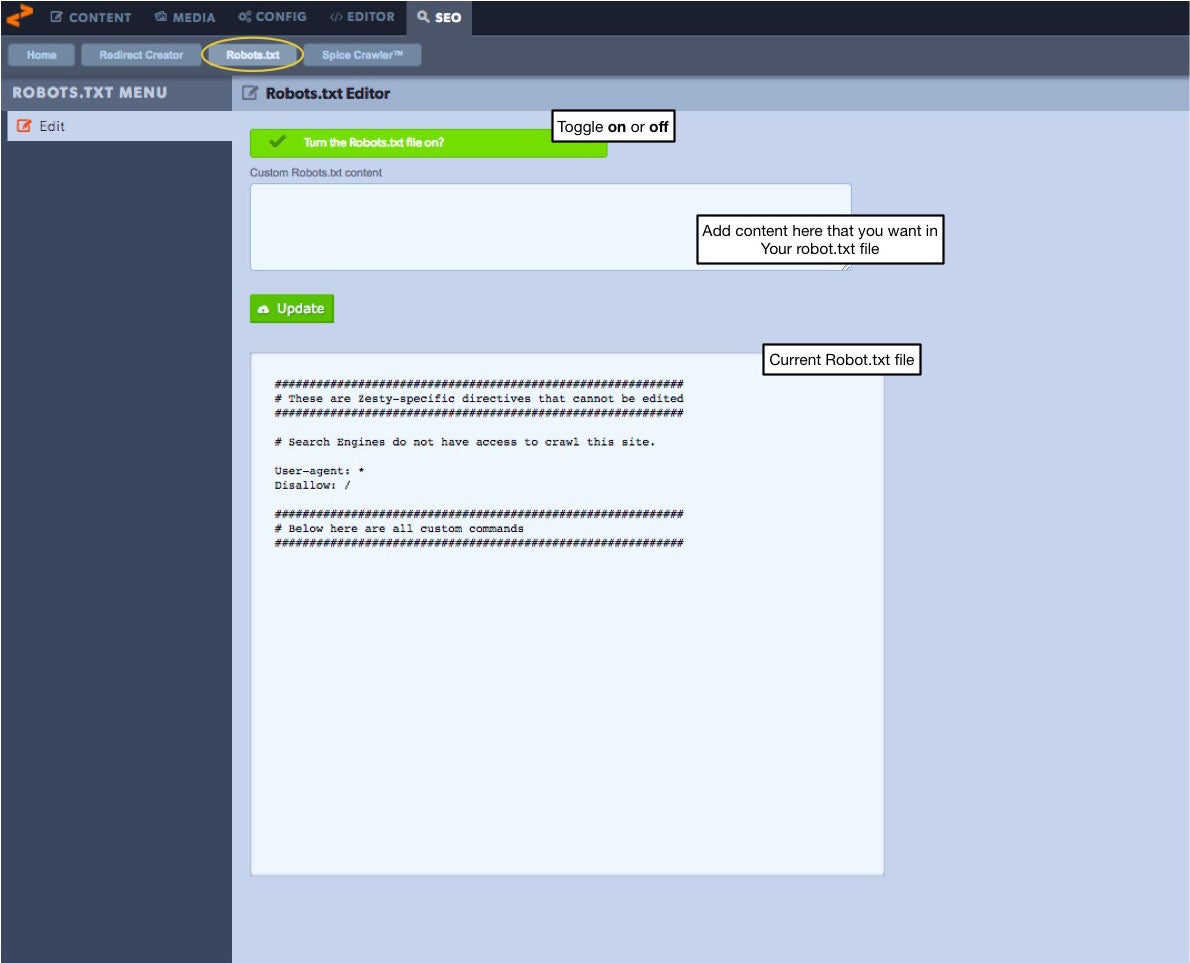 Spice Crawler™
The Spice Crawler™ crawls your site for broken links and suggests way to fix broken links if any are found.

Content tab SEO tools
Under the Content tab in the Site Manager, each page (this includes page groups) have SEO tools in the right-hand sidebar of each page.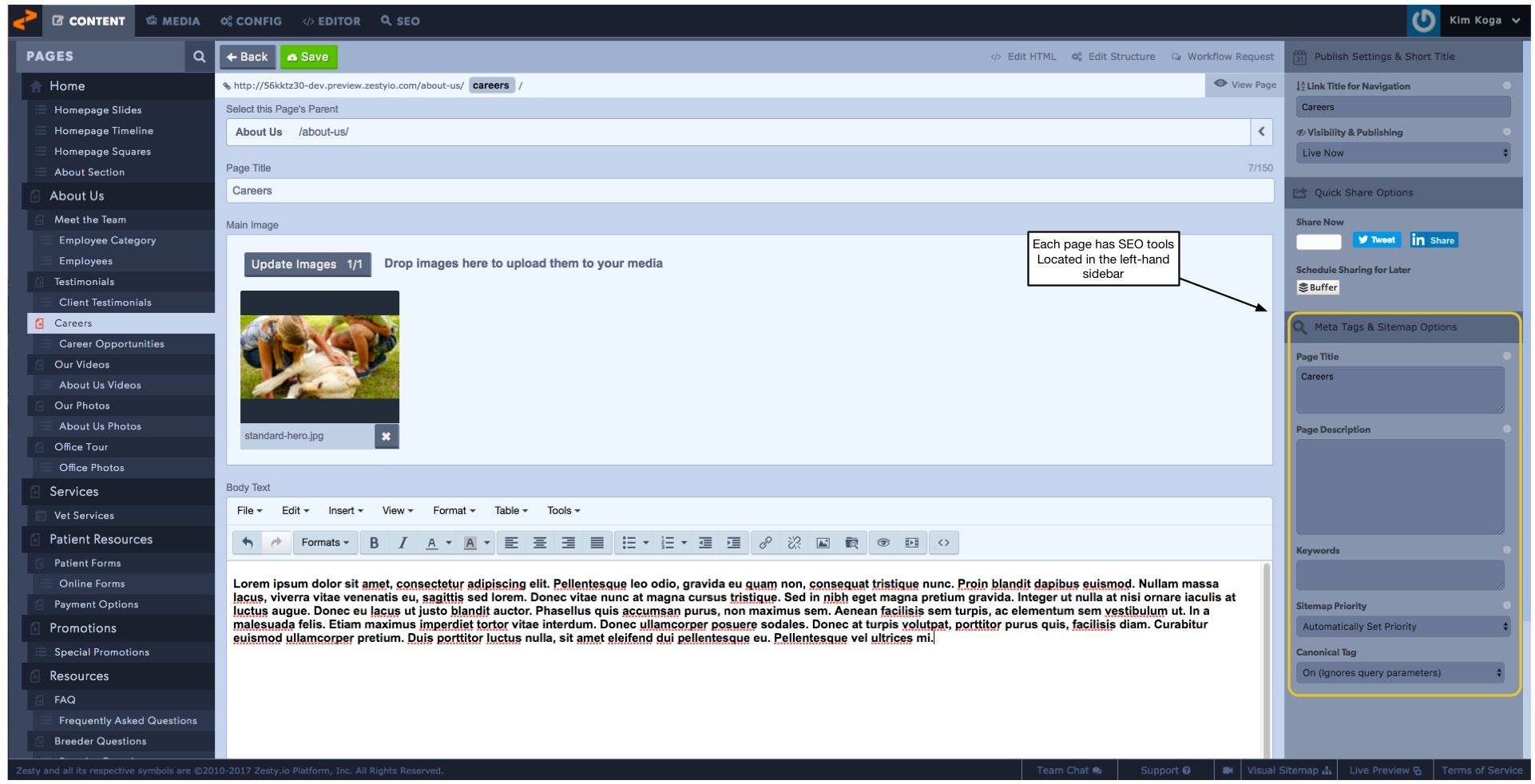 Meta Page Title
The meta title is used by search engines in their search results as the result title. The maximum amount of characters they show is 65, but your title may be longer. The Meta Page Title field is auto-filled from the first text field on the page when the page is created. It can be edited afterwards as well.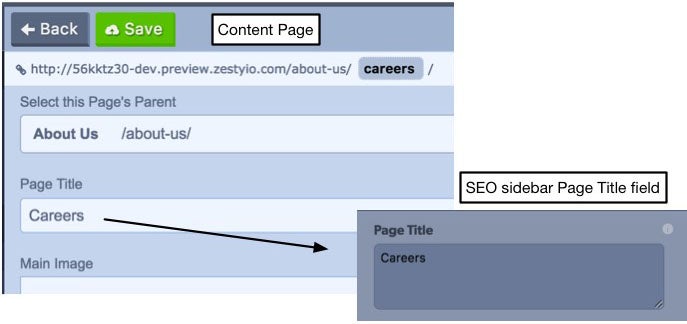 Meta Page Description
The meta description is used by search engines in their search results, shown in the paragraph below the search result title. The maximum amount of characters they show is 160 therefore this field is limited to 160 characters. This field will be auto-filled from the first textarea field on a page. Auto-filling from other types of text boxes is not currently supported. Be aware, if there are more than 160 characters in the Page Description field, the text will not be saved.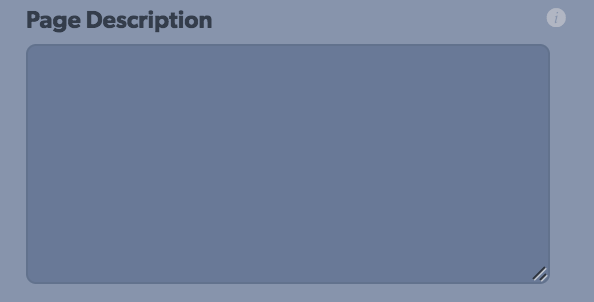 Here is an example of Page Title and Page Description in action:

Meta Keywords
Keywords are comma separated words or phrases that describe your page. In 2011 Google denounced keywords; keywords are only used against your page ranking. Use them with caution. Here is an article with more information on Google and keywords.

Sitemap Priority
Sitemap Priority helps search engines understand how often they should crawl pages on your site. The default setting is 0.5 for each page, with the lowest setting at 0.1 and highest at 1.0. There is also an option for "do not display in sitemap".
Canonical Tags
Canonical tags help search engines understand authoritative links and can help prevent duplicate content issues which may help your ranking. Canonical tags are are not enabled by default. Learn more about the effect of canonical tags here.

Helpful Terms To Know
SEO Tools: Getting Started