Launching a Satellite Site
There are 3 steps to making your site accessible to the public.
Set a custom domain
Configure your DNS
Publish
---
Custom Domains
Setting up your domain in Zesty is a fairly straightforward process. Under your web properties menu, select the website you would like to match with your domain name. You screen should look similar to this: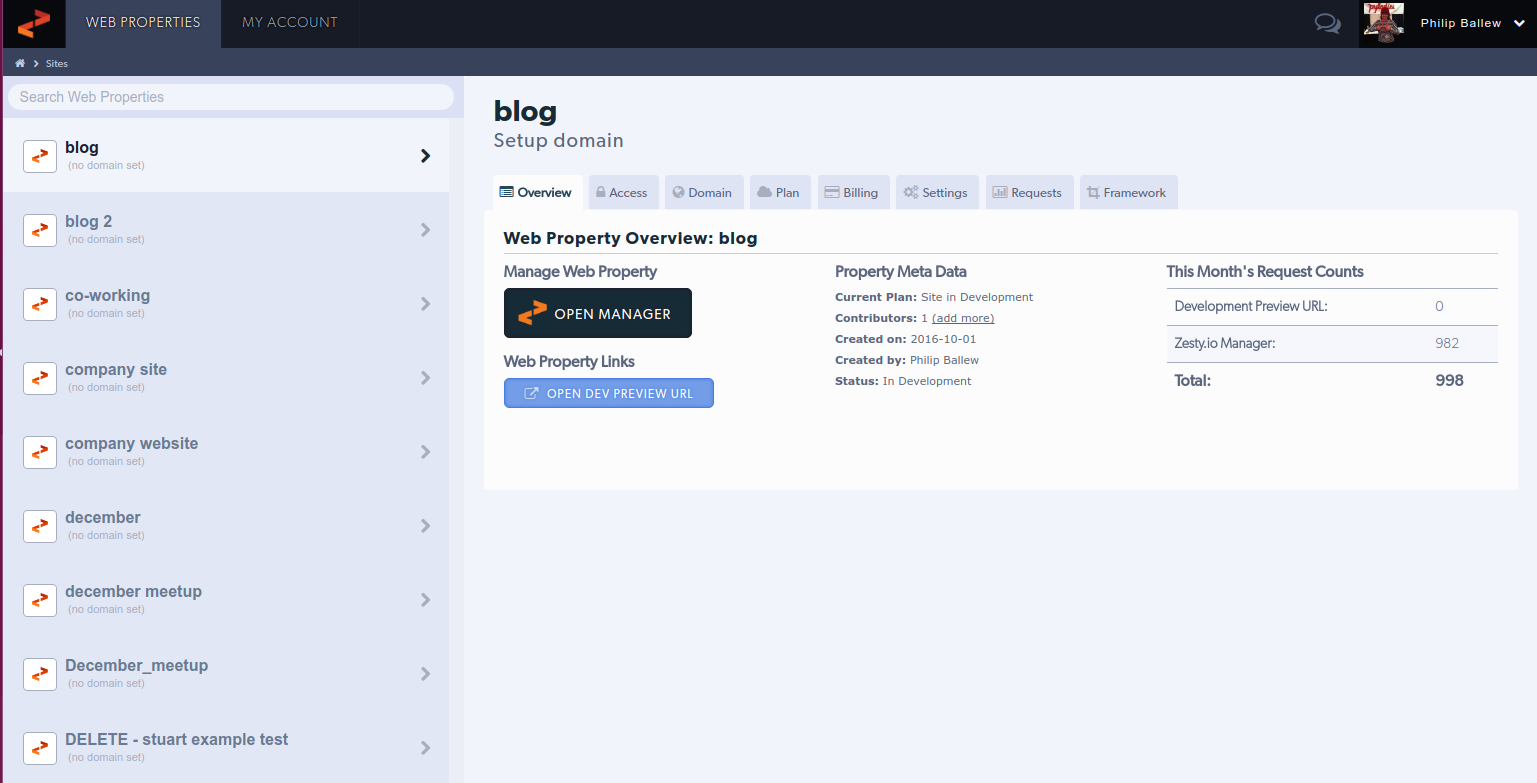 From here, you are presented with multiple tabs to choose from. Select domain.

From here, you can enter your domain. The interface to do this will look like the picture below:

Most likely your box to select next to custom domain is greyed out. This is normal. You need to select a plan. If you have not selected to chose a plan, you should visit the billing tab, and choose a plan that is appropriate for your needs. It is important to know that on Zesty.io, to have a custom domain, you need the standard or above version. The examples are shown below in the picture: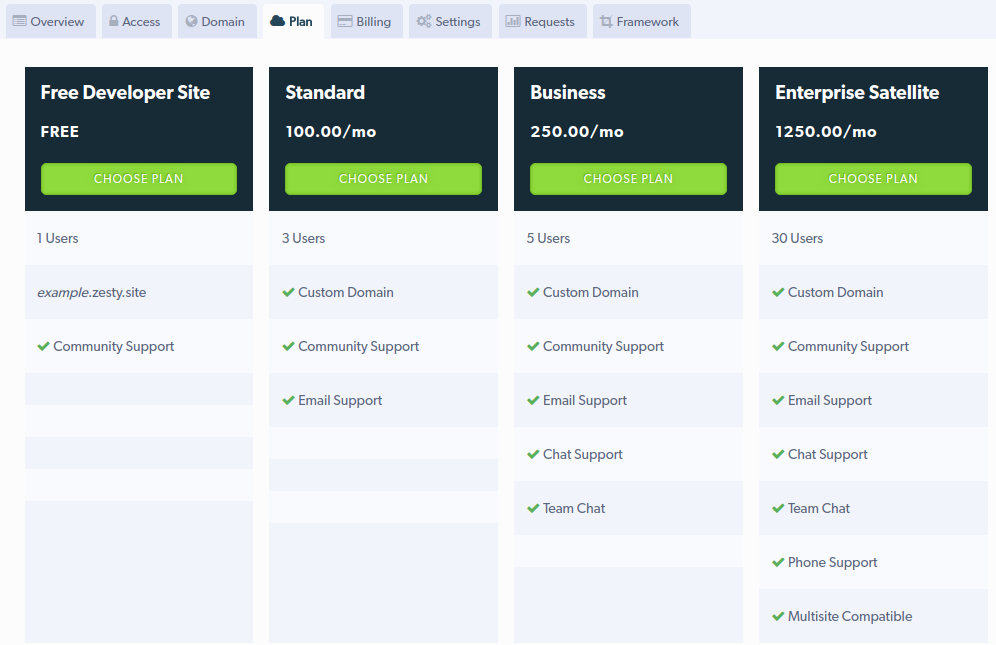 *Note: you will need to enter your credit card info for any of the plans you choose currently.
Once you have chosen your plan, go back to your domain tab.
From here, you will not have the option to select "custom domain". Go ahead and do this.

From here, you can now choose what domain you would like. At the bottom of the picture above, select "Change Domain". This brings up a box to allow you to enter your website domain. An example has been placed below:

From here, enter your custom domain and select update. This will produce a box like the one below:

If everything looks similar to this picture, you are ready to move on to the next step.
DNS
When linking a domain name to Zesty.io, there are three values you will need to set, the record type, host and value.
Record Type
There are many types of DNS records you can create. We will be setting up an A record.
Record Host
This is your domain name that you are setting up to be served by Zesty.io. The host value can also be a subdomain you want to route. Common examples are; www and ftp.
Host values that are @ characters mean it references the current domain you are setting up DNS for.
Record Value
This value depends on the type of record you are setting up. Since we are creating an A record we will want to set the IP address of the Zesty.io servers: 130.211.21.25.
A records always point to IP addresses.
Advanced DNS
CNAME
CNAME records, short for Canonical Name record, are the way that you can show that one domain translates to change to another domain. Essentially one domain is an alias for a different domain.
If configuring your DNS to use a CNAME record to route requests to your Zesty.io hosted site you will use the value: sites2.zesty.zone
Common DNS Registars
Because there are many available places that you could have purchased a domain, there is no one step available to setting up a DNS record. These are some common DNS registrars and their setup instructions.
NameCheap
GoDaddy
Publishing
Then finally to ensure you content is shown. You will need to publish all the templates and any of the content pages you want made available to the public.