Content Clippings
Content Clippings are a unique system provided dataset with in Zesty. Every site created has one predefined. You can not remove the default Content Clippings dataset.
Use Content Clippings to provide global values throughout your site. There are 4 pre-configured fields; Site Name, Site Logo, Footer Text & Google Publisher ID. You can configure new fields for your specific site needs.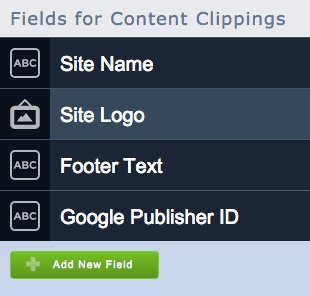 Content Clippings in The Code Editor
Clippings are available globally in templates by accessing clippings and then the specific clipping your looking for.
Parsley Ex: {{clippings.site_name}}